Local Africa serves you the best in breaking local news, new jobs and vacancies, sales ads and the latest updated weather forecast for the city.
---
Lusaka News
Find local breaking news in business, economy, health, politics and sports. Stay updated with latest events, entertainment, culture and travel. Read updated COVID-19 / Corona pandemic information and news about vaccines and testing.
Biggest Zambia news outlets and online news sites:
Jobs in Lusaka

Find newly posted jobs, vacancies and services for hire locally. Most sites allow you to post a profile and get e-mail notifications about new jobs that apply to you.
The best and most popular job sites in Zambia are:
On the best and most popular job sites you will find vacancies in all categories of employment: Management, production, maintenance, quality, service, project management, IT, Health and social professions, transport, logistics and HR, but also postings in training, accounting, controlling, finance, marketing and communication. You can filter vacancies by industry such as production, manufacturing, software & IT, education, temporary work, agriculture, mining, engineering, health, pharmacy and hospitals.
Also check out the most popular classifieds sites. Classifieds sites almost always have a jobs & vacancies section, and a place to post your own resume.
---
For sale in Lusaka
On classifieds sites, you will find almost anything for sale – and you can post your own item to learn an extra income. Search and filter by categories or by location. Find the best deals in your city as well as nation-wide.
In general, the best Zambia classifieds and listing sites are:
---
On most classifieds and sales listings sites you will find items for sale in many categories. Most typical are Mobile Phones & Tablets, Electronics, Vehicles, Cars & Trucks, Real Estate, Fashion & Clothes, Jobs & Trainings, Business & Services and Beauty & well being. You will also find available job listings and seeking job / CVs, service ads, repair and construction and commercial equipment and tools.
Weather in Lusaka
Here you will find updated and accurate local forecasts for the city. Please check the hourly forecast as well as the daily forecasts. We also recommend a good mobile weather app like Weather Channel, AccuWeather or Radarscope to keep you constantly updated.
Lusaka
Feels like: 27°C
Wind: 23km/h ENE
Humidity: 37%
Pressure: 1012.53mbar
UV index: 7
33/22°C
34/22°C
34/23°C

The climate of Zambia in Central and Southern Africa is tropical, and most of the country is either humid subtropical or tropical wet and dry. You will find smaller areas with steppe climate in the south-west.
Weather forecasting and weather radars are the most typical ways of staying updated. Weather is typically indicated with sunny, cloudiness, rains and showers, storms and more. Most online weather apps will list the local location, temperature, precipitation, wind speed, humidty and pressure. Some might even include a UV index and what the weather "feels like" (like the chill factor). Forecasts typically look at Highs and Lows during the 24 hour day, wind, precipitation and precipitation chance.
---
More about Lusaka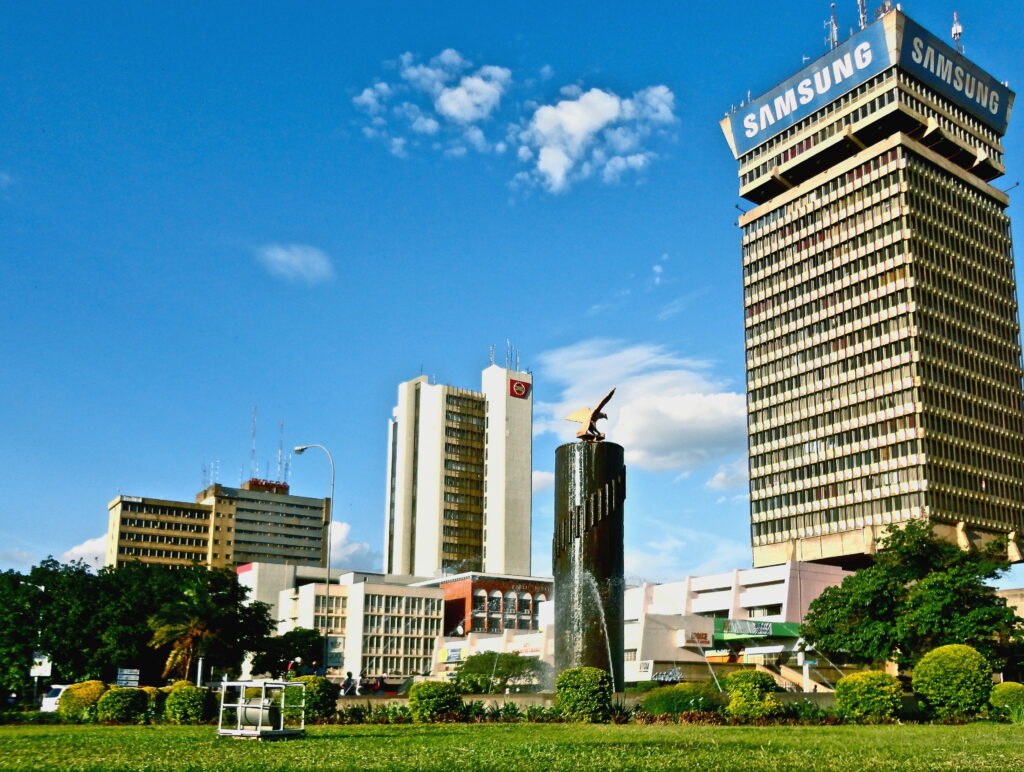 Lusaka is Zambia's capital city and also the largest city in the country. Lusaka is also one of the fastest developing cities in all of southern Africa. It is a city that plays host to both the countries commercial and governmental hubs and the country's four major highways leading out towards its border. Sites and businesses worth mentioning are:
Here comes a link not news, job, or for sale
That could be a local attraction, an important landmark
It could also be a social media platform, an image database
Or even just an interesting person or event that signifies the city
Tip: For additional information about this city, check out local directories for information about residents, culture, businesses and tourism.
---