Lagos, Nigeria's largest city, sprawls inland across the Lagos lagoon from the Gulf of Guinea. The beach resorts and nightlife are well-known in this world's sixth-largest city. The city has a developing 24-hour economy and analysts rank it as one of the most expensive cities in the globe. Continue reading to learn why Lagos remains to be the most populous and a major financial center.
Local Africa serves you the best in breaking local news, new jobs and vacancies, sales ads and the latest updated weather forecast for the city.
---
Lagos News
Find local breaking news in business, economy, health, politics and sports. Stay updated with latest events, entertainment, culture and travel. Read updated COVID-19 / Corona pandemic information and news about vaccines and testing.
The best national Nigerian news sources:
Jobs in Lagos

Find newly posted jobs, vacancies and services for hire locally. Most sites allow you to post a profile and get e-mail notifications about new jobs that apply to you.
Best Nigeria job sites:
On the best and most popular job sites you will find vacancies in all categories of employment: Management, production, maintenance, quality, service, project management, IT, Health and social professions, transport, logistics and HR, but also postings in training, accounting, controlling, finance, marketing and communication. You can filter vacancies by industry such as production, manufacturing, software & IT, education, temporary work, agriculture, mining, engineering, health, pharmacy and hospitals.
Also check out the most popular classifieds sites. Classifieds sites almost always have a jobs & vacancies section, and a place to post your own resume.
---
For sale in Lagos
On classifieds sites, you will find almost anything for sale – and you can post your own item to learn an extra income. Search and filter by categories or by location. Find the best deals in your city as well as nation-wide.
In general, the best Nigeria classifieds and listing sites are:
---
On most classifieds and sales listings sites you will find items for sale in many categories. Most typical are Mobile Phones & Tablets, Electronics, Vehicles, Cars & Trucks, Real Estate, Fashion & Clothes, Jobs & Trainings, Business & Services and Beauty & well being. You will also find available job listings and seeking job / CVs, service ads, repair and construction and commercial equipment and tools.
Weather in Lagos
Here you will find updated and accurate local forecasts for the city. Please check the hourly forecast as well as the daily forecasts. We also recommend a good mobile weather app like Weather Channel, AccuWeather or Radarscope to keep you constantly updated.
Lagos
26°
Mostly Cloudy
06:3518:42 WAT
Feels like: 26°C
Wind: 8km/h SW
Humidity: 90%
Pressure: 1012.53mbar
UV index: 0
28/25°C
28/25°C
30/25°C

Nigeria has a tropical climate with different rainy and dry seasons, depending on the location. Most of the year it is hot and wet in the southeast but dry in the southwest and farther inland. Good national weather links are:
Weather forecasting and weather radars are the most typical ways of staying updated. Weather is typically indicated with sunny, cloudiness, rains and showers, storms and more. Most online weather apps will list the local location, temperature, precipitation, wind speed, humidty and pressure. Some might even include a UV index and what the weather "feels like" (like the chill factor). Forecasts typically look at Highs and Lows during the 24 hour day, wind, precipitation and precipitation chance.
---
More about Lagos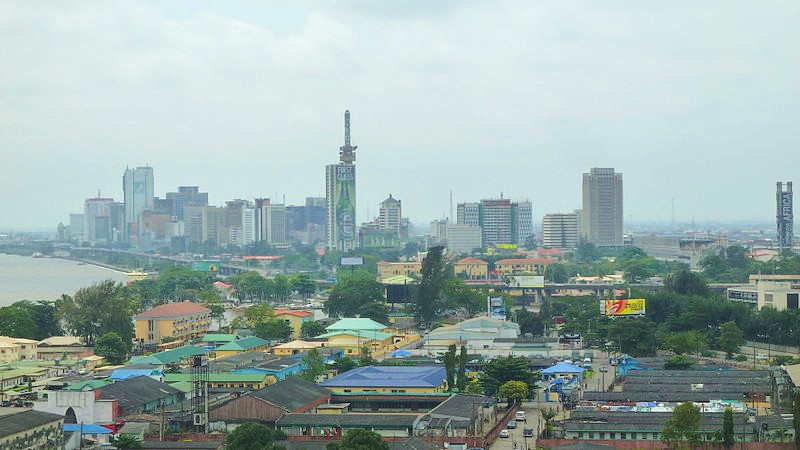 Population
Lagos is Nigeria's most populous city and Africa's second-largest. Rural-to-urban migration has been a major driver of development in Lagos over the last 50 years. People leave the countryside for a variety of reasons, including a shortage of work prospects and low pay.
Economy
Lagos is Nigeria's most important economic center, accounting for roughly 10% of the country's GDP. Lagos is also West Africa's main information, connectivity, and telecommunications centre, with the potential to be the continent's largest ICT sector. The port of Lagos, Nigeria's main port and one of Africa's biggest and busiest, has seen an increase in crude oil exports. In Nigeria, oil and petroleum products account for 14% of GDP and 90% of foreign exchange earnings.
Entertainment
The Lagos Idumota market is home to Nollywood, the country's and world's second-largest film industry. Many films are shot in Lagos' Festac district, which hosted the world's black arts festival. Iganmu is the main hub for Nigeria's performing artists. James Brown, Sean Paul, and Snoop Dogg, to name a few foreign musicians, have all performed in the area. The film and music industries in Lagos are well-known across Africa. Sakara pop, Nigerian hip-hop, juju, fuji, and afrobeat are just a few of the styles that have come out of it.
Places of Worship
Christian churches and temples are among the places of worship. Mosques can also be found in the region. A number of traditional worshippers' shrines and temples are dispersed across the city. The city is dotted with ISKCON temples and three other Hindu temples.
Health
Lagos is home to a number of hospitals and medical services, including the country's oldest hospital. The Lagos healthcare system is divided into public and private sectors, which provide primary, secondary, and tertiary medical services.
Education
The 6-3-3-4 rule is used in the Lagos educational system: six years of primary school, three years of junior secondary school, three years of senior secondary school, and at least four years of tertiary education. Basic education is given to all children, with a special emphasis on the first nine years. Various post-secondary colleges, universities, and other vocational institutions can be found in Lagos.
Transport
Lagos has a variety of transportation options, including road, rail, and air. Lagos has one of West Africa's biggest and most comprehensive road networks. Owing to rapid population growth, highways are normally congested during rush hour. The city is also served by suburban train services. Murtala Muhammed International Airport, one of Africa's biggest and busiest airports, serves Lagos.
Lagos city's population continues to grow as people move from other parts of Nigeria and neighboring countries in search of a better life and new economic opportunities. Lagosians have unrivaled musical and acting abilities, and their vibrant enthusiasm lasts long into the night.
Tip: For additional information about this city, check out local directories for information about residents, culture, businesses and tourism.
---